HOW CAN CBD HELP PROVIDE POSITIVE HEALTH EFFECTS TO OUR SENIOR CITIZENS?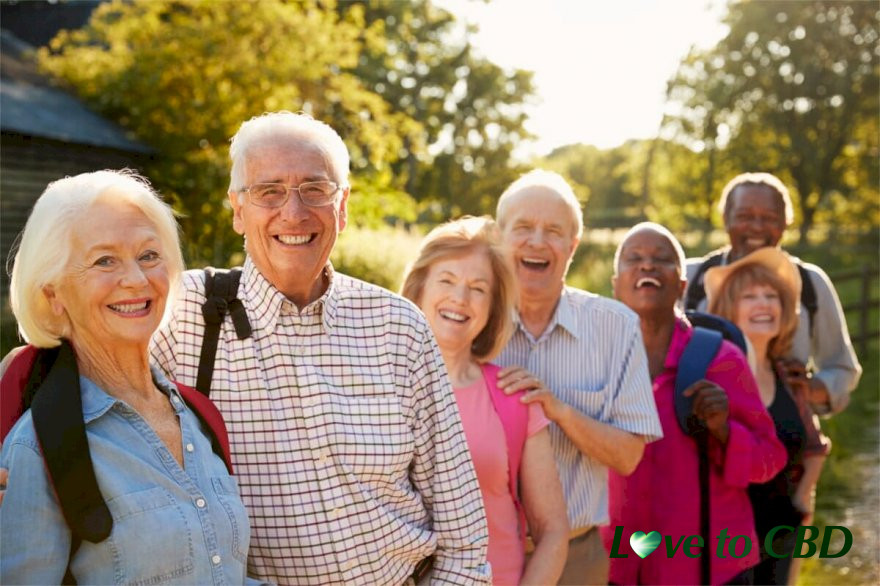 CBD, which is the abbreviated name for the hemp and marijuana-based compound cannabidiol, has become extremely popular over the past few years due to its apparent ability to promote beneficial health effects. But many of our customers wonder if the craze surrounding CBD supplements is based on scientific reality or whether it is just another fad? There are quite a few of us that remember a ton of different products (such as Tamagotchis, pet rocks, and Beanie Babies) that became extremely popular very quickly and they were just as promptly ignored and discarded. Is it possible that the popularity of cannabidiol products could face a similar fate and really is nothing to pay much attention to?
Luckily, all of the research that has been conducted on CBD seems to indicate that it can be potentially beneficial to people of all ages. One of the age groups that have been hesitant to try cannabidiol supplements are senior citizens. This is quite unfortunate because they could also see the most benefits from these types of products in comparison to other age groups. However, it makes complete sense why seniors would have some trepidation about trying CBD. Cannabis, which is full of this particular cannabinoid, has been surrounded by substantial stigma due to our national government's drug policies. But CBD can now be used completely legally (without any psychoactive effects) by extracting it from a far more inconspicuous plant: hemp! Let's take a closer look at why seniors may want to start using cannabidiol below:
HOW CAN CBD HELP PROVIDE POSITIVE HEALTH EFFECTS TO OUR SENIOR CITIZENS?
Cannabidiol products provide the same physical and mental effects on seniors as they do to other age groups. CBD instills its benefits by interacting with the receptors of the endocannabinoid system. The endocannabinoid system is one of the largest and most complex regulatory systems found in the human body. It is responsible for controlling a vast array of different biological functions by affecting critical neurotransmitters and hormones.
The endocannabinoid system handles all of its work through certain "messenger" molecules known as endocannabinoids. These compounds are extremely similar in chemical composition to CBD and other cannabinoids found in hemp and marijuana. Therefore, if the endocannabinoid system is in distress due to an illness, injury, or stress and is producing a lower amount of endocannabinoids than normal, cannabidiol supplements can provide a necessary boost and help make up the difference. This is the primary reason that cannabidiol products (and CBD for seniors) have gotten so popular over the last decade.
IS CBD AN EFFECTIVE APPETITE STIMULANT FOR ELDERLY PEOPLE?
Many seniors have trouble maintaining a consistent appetite. Believe it or not, the lack of a regular appetite can become quite dangerous for an elderly person because it can lead to tissue weaknesses, extensive weight loss, and even mental distress. Luckily, one of the endocannabinoid system's main functions is to regulate the digestive system and appetite. This is the reason that so many senior citizens find some appetite stimulation after ingesting CBD.
HOW EFFECTIVE IS CBD OIL FOR DEMENTIA AND ALZHEIMER'S DISEASE?
Dementia is a term used to describe a broad collection of aging-related brain diseases that lead to a gradual decrease in overall brain function, the ability to think critically, and the ability to recall memories. Roughly 50 to 70 percent of all dementia cases are actually attributed to Alzheimer's disease. Unfortunately, there is still no known cure for this category of brain illnesses.
However, recent research has started to indicate that key factors that lead to dementia and Alzheimer's disease include inflammation and certain toxic proteins that develop chronically in the brain. Luckily, one of CBD's most powerful properties involves its ability to reduce inflammation throughout the body effectively. No results are guaranteed, but many dementia and Alzheimer's disease patients have reported improvements after using CBD oil supplements.
WHAT ARE THE USES OF CBD OIL AFTER SURGERY?
Surgery recovery can be a very painful and almost debilitating experience. Unfortunately, as we age, it is almost impossible to avoid getting a surgical procedure at some point in our lives. The most common symptoms that people feel after surgery are intense pain, inflammation of the affected tissues, and a compromised immune system (from the body having to handle so trauma).
Cannabidiol is believed to help the endocannabinoid system combat acute pain, inflammation, and immune system suppression to a tremendous degree. So the next time you or a senior citizen that you love have a surgery scheduled, make sure that you have some high-quality CBD oil products available for use. They may help ease the aggravated discomfort that is common after surgical procedures without the side effects that are often seen with typically administered prescription medications.
WHAT IS THE BEST DOSE AMOUNT OF CBD FOR AN ELDERLY PERSON?
Finding the proper dosage size of cannabidiol can be quite difficult for any person, especially when they are older in age. It all really depends on the quality of the supplement being used, the metabolism of the person using it, and the method of CBD ingestion. It should also be seriously noted that everyone is different and the amount that works perfectly for one person may be completely ineffective for the next person. Tell your senior customers to use the following tips to help find out the oil dosage that works best for them:
1) Start with a small dose
It always better to be safe than sorry! When your customers start using CBD supplements, they should stick with a minimal dose and see how it affects them. If they don't feel the desired effect within 30 minutes to a couple of hours, they can go ahead and take a little more CBD. Even though cannabidiol products rarely cause a negative side effect if over-ingested, there is no need to use more than necessary. A small starting dose is typically anywhere between 2 to 30 milligrams.
2) Gradually increase the dose over time
Some people require a few days to several weeks for their bodies to get sensitized to CBD. This is yet another reason to slowly increase your dosage amount over time, just in case your body only starts responding to cannabidiol after a prolonged period of time of ingestion.
3) Think about using pre-measured CBD products
This is one of the easiest ways to control cannabidiol intake. Pre-measured edibles, beverages, capsules, and oral sprays can all work in a pinch and one dose of each often contains an amount of CBD that is effective for most people.
4) Try out a variety of supplements or brands
You will never really know how a CBD product affects you until you try it. On top of this, the effects of different cannabidiol brands can vary quite a bit depending on the manufacturing company's extraction processes and quality of the initial hemp plant material.