THE BENEFITS OF COMBINING CBD AND YOGA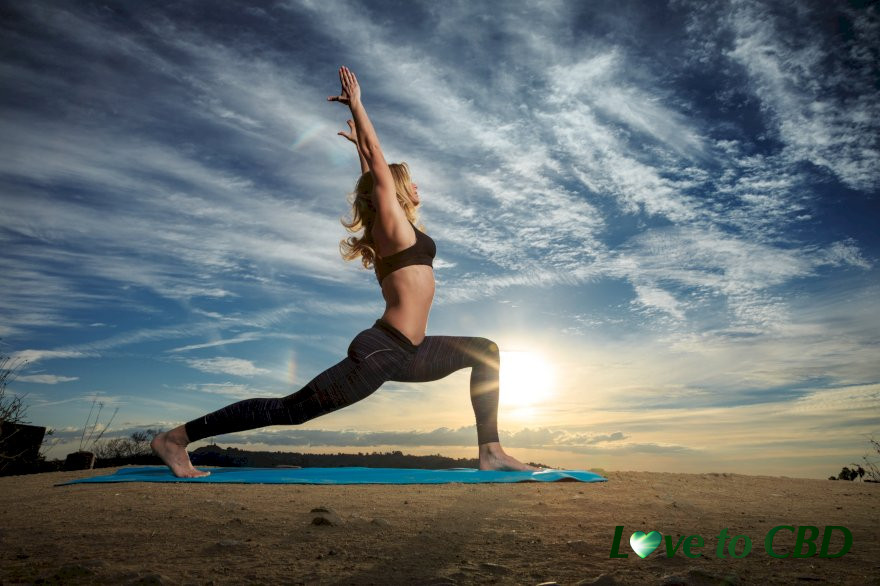 You may know or be one of the thousands of Americans who've been suffering from burnout and brain fog, stress-related weight gain, health issues, or have lost muscle and joint flexibility and want to take your life back. Instead of turning to pills and unhealthy coping mechanisms like drugs, alcohol, or a phase of unproductive zoning out (i.e. getting sucked into hours of watching tv/movies, social media, video apps or games), you may consider CBD and yoga to reduce stress, refocus attention, and reclaim your physical health.
Building strength, flexibility, and even the muscles of the mind takes time and practice. Some find endurance sports helpful, while others may need low impact strength-training and meditation. Luckily, yoga, as a practice has shown extremely promising results (both physically and mentally) for people of almost any age, physical ability, or experience level. Additionally, CBD – which is a naturally occurring phytocannabinoid found in cannabis and hemp plants, has been found to have similarly positive effects on physical and mental wellness. It only makes sense that these two would go hand in hand. Let's dive deeper into how CBD and yoga were meant for each other.
Why Does CBD Work Well With Our Physical Bodies?
Cannabidiol (or CBD) is a medicine derived from hemp and cannabis plants. In a way, our bodies were made to consume this cannabinoid because of the endocannabinoid system (aka ECS). Our ECS is involved in regulating many different physiological and cognitive (physical and mental) processes in the body, including appetite, metabolism, the way our immune system responds, sleep, pain, and more.
Our nervous system includes cannabinoid receptors, and our body produces which go together like puzzle pieces. When we feed our cannabinoid receptors with naturally occurring endocannabinoids as well as helpful plant-based cannabinoids we support the ECS.
Cannabinoid receptors are scattered within every other major system in our bodies including our connective tissues, bones, skin, and even our brains and nervous system. One could almost say our bodies were designed specifically with this plant medicine in mind!
Why Does Yoga Work Well With Our Physical Bodies?
Yoga isn't just a way to stay fit. The true practice of yoga is based on the Hindu theistic philosophy that aims to make the distinction (and allow the liberation between) mind, body, and soul. This type of mindfulness and connection within the body is achieved through intentional breathing techniques, holding physical poses, quieting the mind, and focusing on being present in the body.
Especially during moments of physical tension, a key aspect of yoga is not forcing through it or holding breath to endure it, but to slowly accept and breath into this tension which slowly stretches and strengthens the muscle. Mindfulness is similar to exercise for the brain, and just like strengthened muscles aren't used only in the gym, a strong and fine-tuned mind can impact other areas of our lives as well, creating overall patterns of improved wellness. When we are more mindful about the sensations in our mind and body we are able to address our needs faster – and more intentionally.
What Are The Overlapping Benefits Of CBD And Yoga?
Stress & anxiety reduction
According to one study conducted over three months, yoga had a significant improvement on measures of stress, depression, and levels of cortisol for women who had previously experienced mental distress. Yoga alone may be a great answer for some women, but due to the calming effect of CBD on the nervous system, yoga, when used in combination with CBD, could drastically reduce stress and anxiety.
Reduced Inflammation, Faster Recovery, Improved Flexibility, and Endurance
The interaction of CBD with our ECS has shown promising results for a reduction in chronic pain, inflammation, and recovery time. CBD also encourages the death of two immune system cells that trigger and play a significant role in the inflammatory response called T cells and dendritic cells. Paired with yoga it can help to increase recovery speed between workouts and endurance during them.
Improved Physical Wellness, Strength, and Weight Loss
There's no doubt about it, yoga takes strength, endurance, balance, and flexibility. When practiced with frequency and consistency, yoga can contribute to weight loss, muscle toning, and better circulation. Want to speed up the process of fat reduction? CBD may be part of the answer. One study showed that CBD played a role in turning white fat into brown fat– which burns off energy as heat. There is still more to be learned about how CBD impacts appetite, metabolism, and its impact on fat cells, but the results have been promising when combined with physical activity – like yoga – and a balanced diet.
Better and More Restful Sleep
The physiological impacts of yoga can occur well after we leave the mat. With the help of yoga, some people have experienced a reduction in high blood pressure and cholesterol, helping with sleep disorders and allowing for more restful sleep. Some forms of yoga, like Yoga Nidra, focus primarily on meditation and relaxation without the poses, but instead with an emphasis on breathing techniques to reach a state somewhere between consciousness and sleep.
Although CBD does provide a level of calmness, it can also increase alertness and energy during the day. This is one reason why CBD can best be utilized for night-time restfulness by consuming it earlier in the day. When we support our wakefulness and energy in the morning and daytime hours, our bodies will be ready for sleep when the time comes.