THE BENEFITS OF CBD GUMMIES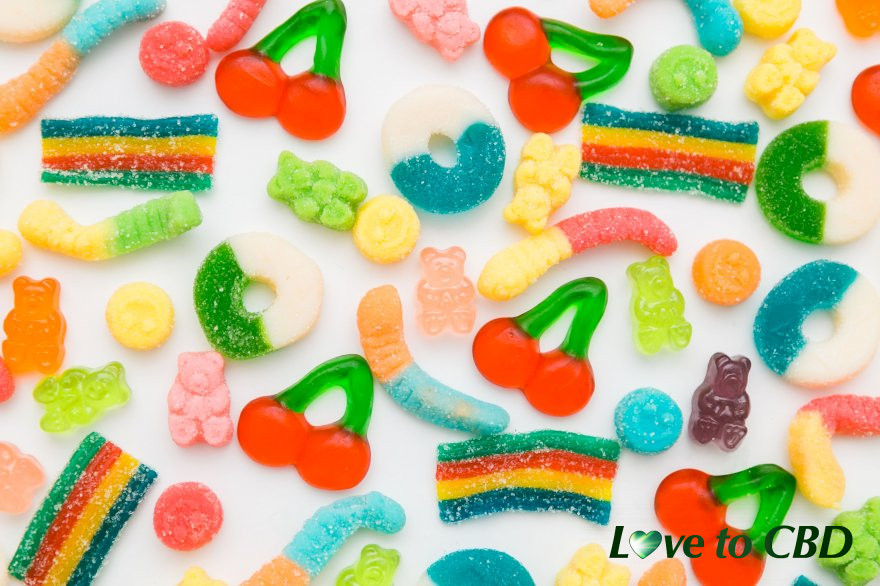 Let's tackle the question: "What are the benefits of CBD gummies?" With the federal legalization of hemp in the 2018 Farm bill, cannabis is no longer on the fringe, it's in the news. A dazzling array of products containing CBD are coming to market — everything from CBD-infused gummy bears to dog treats. Along with the products however, there are questions — What are the differences between the compounds in cannabis? Is there any scientific evidence showing a potential benefit of CBD use? Is any one form of consumption better than another? Read on and find out!
What is CBD?
Simply put, cannabidiol (CBD) is a non-psychoactive compound found in cannabis.
Cannabis is used as kind of a catch all term for any plant from the cannabis genus. Although there is a genetic difference between hemp (Cannabis Sativa) and what is colloquially known as marijuana (Cannabis Indica), all three terms are used interchangeably but there are big differences between them.
CBD won't get you high and hemp-derived CBD is federally legal in all 50 states (with a few individual states opting to keep it inaccessible) whereas products containing more than .03 percent THC have varying degrees of legality. Found predominantly in cannabis indica, THC is the compound that IS responsible for getting you high. Together CBD and THC, along with over a hundred other compounds, are known as cannabinoids.
There is mounting evidence that cannabinoids are useful in the treatment of various health conditions from multiple sclerosis to cancer, even less serious conditions like acne. After decades of heavily restricted access to cannabis, scientists are starting studies and trials and the results have been promising.
Is there any scientific evidence for using CBD Gummies?
Benefits of CBD Gummies for pain
Anecdotal stories of using CBD gummies for pain are supported by studies like this one that concluded cannabinoids have a role in managing difficult to treat pain. The study looked at Sativex Ⓡ, along with other synthetic cannabinoids. Sativex Ⓡ is an FDA approved treatment for neuropathic pain in MS and for cancer pain but it is important to note that it uses THC and CBD in a 1:1 proportion. Another study explored how cannabinoids can help treat neuropathic pain, concluding that cannabinoids may also help in reducing inflammatory pain.
A large case series found compelling evidence for using CBD in treating sleep disturbances. After one month of treatment with CBD, sixty-six percent of participants experienced a betterment in the quality of sleep with a reported fifty-six percent still reporting improvement after two months.
Benefits of CBD gummies for anxiety
The same case series found CBD may also help with anxiety. Approximately eighty percent of subjects experienced a reduction in overall anxiety levels after one month of treatment and after two months, seventy-eight percent still reported the treatment was effective.
While we're talking about anxiety, there are other studies that document CBD's potential in managing stress caused by public speaking. While relatively high doses of CBD were used (from 300-900mg), both self-reports of stress and scientific measures of stress (sweaty palms, heart rate),were decreased in subjects receiving CBD treatment.
Benefits of CBD gummies for nausea
A particularly well documented potential benefit of CBD is in the regulation and treatment of nausea. Throughout studies with both animals and humans, chemotherapy-induced nausea and vomiting responses are reduced with CBD treatment. Interestingly, the researchers themselves reported that patients reported a preference for natural cannabinoids over the synthetic ones.
Why use CBD gummies?
Although no studies specifically use CBD gummies as their method of delivery, many people prefer to eat their CBD. Here are our favorite reasons for giving CBD gummies a try.
They won't get you high. You won't have to contend with side effects like paranoia or confusion so you can fully relax. As delightful as our CBD gummy bears are, they won't have you giggling from a head change.
They're tasty, sometimes it really is just that simple.
Easy dosing. With clearly marked strengths, ranging from 250mg to 3,000mg per container, it's easy to decide your dose. Each containing around 10-12mg, our sour gummy worms are a delicious and quick way to nibble your desired dose of CBD.
Edibles may last longer than inhalation. Since the compounds go through the digestion process they have a longer onset time but being metabolized by the liver is a slower process — meaning your gummy may also last hours longer than a pull on a vape pen.
Some are one hundred percent vegetarian, like our chewy rainbows, so you can indulge guilt free.
They're discreet. No one will notice you popping a peach ring into your mouth the next time you're feeling anxious in public so you can consume on the go with zero fear of any lingering stigma about vaping.
No coughing fits, there is zero chance of them irritating your lungs.
Are there side effects of using CBD gummies?
One common thread throughout dozens of studies is that CBD use is generally very well tolerated. The most commonly reported side effects were tiredness and changes in appetite or weight. Whether or not those are detrimental to you depends on why you are considering taking CBD in the first place. Researchers were careful to state that studies looking at chronic, long-term use are necessary to determine what, if any, side effects come with continual use.